How To Stain Exterior Wood
With ARBORCOAT® Exterior Stains, specially formulated to protect wood even in extreme weather conditions, refreshing your deck and protecting it at the same time is easier than you think.

Step 1: Prep
Preparation is key to success. Here are a few scenarios to guide you.

The surfaces of wooden decks typically fall under three categories: new or untreated wood, weathered wood, or flaking and peeling wood. The condition of wood on your deck will determine the process of staining or re-staining it, and each condition has a specific method of pre-stain preparation.
New or Untreated Wood: Benjamin Moore Brighten, Brightener & Neutralizer (K317) is used to break the mill glaze on new wood to promote stain penetration, as well as remove tannin and rust stains. (Note: Newly installed pressure treated wood should be left for 3-4 months to dry out before staining or painting).
Weathered Wood: Benjamin Moore Restore (K316) is our go-to product if your deck is looking grayed out. Use Restore with a stiff brush to clean the wood and remove any loose, dead fibers. Afterwards, rinse the deck and treat the wood with Brighten, then sand down the deck to ensure a smooth staining surface.

Flaking/Peeling Wood: For previously stained decks that are peeling or flaking, Benjamin Moore Remove (K315) can help to remove old stain and uncover the healthy beams beneath. Afterwards, rinse the deck and treat the wood with Brighten, then sand down the deck to ensure a smooth staining surface.
Cleaning and Mildew: For general purpose cleaning use the Benjamin Moore Clean (K318). Ideal for maintenance cleaning and removes stains from mould and mildew. Can be used in exterior situations on wood decking, siding, shakes and furniture. Also recommended for concrete, stucco, vinyl, fiberglass and outdoor furniture.

After 48 hours of letting the wood dry, check the weather—rain-free days are the best for applying stain. If the forecast is dry for at least 48 hours, you're ready to apply!

Step 2: Test Your Colour Choice
Our ARBORCOAT samples (pints) are the ideal way to discover what opacity and wood stain colours are right for your deck.
Explore opacities and colours here.

Once you know what colour and opacity you'd like to use, test the colour on a spare piece of lumber and give yourself a preview of how the finished deck will look. We used ARBORCOAT Semi-Transparent in Cordovan Brown in this video.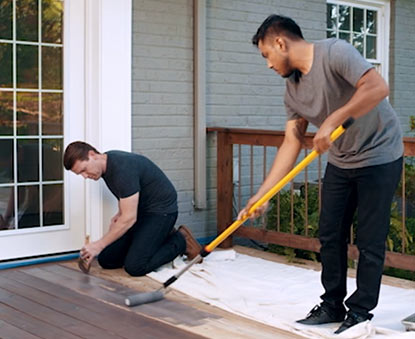 Step 3: Time to Stain
Deck stain can be applied in multiple ways: the tried-and-true combo of roller and brush, or with a pad applicator if you're staining solo. Use a roller to stain large areas of wood, but make sure to go back and work the stain in with a brush, also known as back-brush technique (as seen above). To prevent any lap marks or uneven streaks, back-brushing should be done with a partner.

If there are any areas where the stain dries unevenly, follow the direction of the boards and recoat them fully, a few at a time. Lap marks can also occur if the stain dries too quickly, so avoid staining in direct sunlight if you can.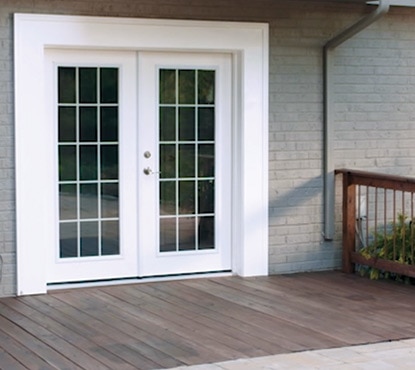 Step 4: Let It Dry
Your newly-stained deck will take about 48 hours to fully dry, so we recommend waiting a minimum of two days before opening it up to foot traffic.
Ready to purchase stain and prep products? Click here.
Have More Questions? Contact us at 416.767.5171 or info@westtorontopaint.ca